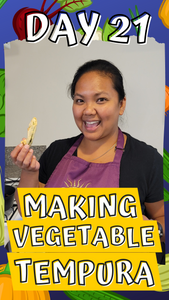 Day 21 Making Vegetable Tempura
I can't believe we're on day 21 of the 30 in 30 challenge. I decided to run out to the grocery store to get some veggies to make vegetable tempura today. I originally wanted to go to a new fish market and buy live lobster for the first time, but due to my lack of planning, I ran out of time. I forgot all the other stuff going on that day. We had speech therapy and swim class for Alonna that day. Also, there were the errands we needed to do like grocery shopping, laundry, washing dishes, clean the kitchen, and it didn't help that Alonna was extra fussy in the morning. Her favorite word being "no" to everything, even the stuff she means to say "yes" to, made the day that much more difficult. It's tough being a parent. Talk about your something new. If you are a parent you understand that you're something new each day are the challenges that arise with raising a child 24/7. To add this 30 in 30 challenge on top of everything else. I didn't think about when we'd shoot our Live Instagram. I figured "oh we'll just turn on the camera and shoot." I forget about prep work. That really tends to be a lot of my issues. I will jump into something not thinking about anything else that might be needed. Most definitely a blessing and a curse. I digress, (not sure if I'm using that word right, but I hear it a lot), let's get back to the tempura. Oh geez, after looking back at this I ended up messing up a lot! The bite wasn't crispy, it was very "bready." I probably overmixed the batter, which wasn't cold enough to start with. Then the oil temp was all over the place! It was so hard trying to keep it in the right temperature it would go above 400F then drop down to 325F. I think that was one of the hardest things to try to do during the cooking. Despite the difficulties and it not coming out how I hoped it would. It has most definitely sparked an interest in me to continue trying this again. I'm going to look into different recipes and see what other techniques that may help a beginner like me in this tempura making world. I hope this has sparked an interest for you to try something new too!
Day 21 complete on to the next new thing!
---