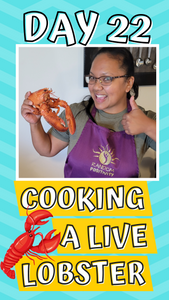 Day 22 Cooking a Live Lobster!
Holy crap! Day 22 of the 30 new things in 30 days challenge. This was intense. I felt so nervous doing this one! Today was the day, it was lobster day. Not just any lobster, it was live lobster. LIVE PEOPLE! Oh man, when I was at the grocery store looking at the lobsters moving around in the tank I was honestly starting to second guess myself. Then when I asked for 2 of them I just saw a moving frenzy as the guy went in with some tongs to pick them up. I started to freak out on the inside but stay calm on the out. I told myself, "I committed to doing this, so I'm doing this!" There it was I grabbed the bag from the man behind the counter and went to the cashier. No turning back now, this is gonna happen, it's happening. I got home started boiling water, grabbed the saucepan, tongs, butter, strainer, and cheesecloth to be prepped for anything I was going to use during the live today. I decided on trying to make clarified butter too. So this was a two for one day. I'm doing two new things today (pat on the back). When it came time to place the lobsters into the boiling water, I inner freaking out was becoming my outer freaking out. I was getting scared to pick up the lobsters, but I did it and placed them in the pot. I did it! I completed my first task of the day. Clarifying the butter was a good way to take my mind off the lobsters. I felt that was very simple to do. When it came to cracking the lobsters and getting the meat out, I feel I did well for a first timer. Oh wow, now that I think about it. I think that was the first time I had a whole lobster. I've had tails before but I don't think I've ever had whole lobster. Wow another first! Today was a big day! The lobster turned out to be tasty, I'm so grateful for that. Especially after yesterday's tempura I needed something yummy to come out of the kitchen. Today I tackled 3 new things, which means I had 3 new experiences. Good job! Hahaha, sometimes you have got to tell yourself you did good.
Get out there and do something new today!
Day 22 in the bag!
---