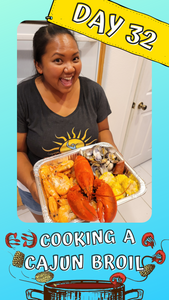 Day 32 Cajun Boil
Alrighty Day 32 is here! Cajun Boil day, yay! I love me some food. Boiling Crab is so fun and tasty it's one of the restaurants I enjoy eating at, but it can get pricey (especially the way my crowd and I eat). Eating with your hands, the sound of cracking shells, juices flying, and a protective bib to wear? Yup sign me up. Sounds like a good time. I have been wanting to make this at home for so long.
My family already had plans to go to our friend's house for a small get together and she brought up doing a cajun boil. Elaine is such an amazing host, she found the recipe, did the grocery shopping, and had the know how on prep. I did not have to do any research at all. Woot woot! I can finally cross this off my list. I'm open to those new experiences. Let's get to it!
We had live Maine lobster, clams, corn, shrimp, potatoes, and sausage. Yummmers! The burner and pot was set up, we had a rapid boil going, it was time to drop in the goodies. We started with adding Zatarain's Crab Boil and lemons to the water. We let it boil for about 10 min to get that water flavored. We added the lobster first, boiled it for 15 minutes and was removed from the pot. Then came the corn, potatoes, and clams boiling for 5 minutes then adding the sausage and shrimp to boil for 5 minutes. Here's the breakdown for boiling time for each:
Lobster 12-18 minutes (we did 15 minutes)
Corn, potatoes, and clams 10 minutes
Shrimp and sausage 5 minutes (although the shrimp was a bit overcooked, I would try closer to 3 minutes for the shrimp.)
Once everything was done boiling we moved onto the sauce. Oooooo the sauce! Here's the recipe below
"The Whole Shabang" Boiling Crab Recipe (found on TikTok under @supremestephany20)
2-4 lb of shrimp
3 tbsp Cajun Seasoning
3 tbsp Paprika
2 tbsp Oregano
2 tbsp Cayenne Pepper
2 tbsp Chili Powder
2 tbsp Lemon pepper
3 tbsp Sugar
4 Garlic Heads (minced)
4 sticks Unsalted Butter
4 tbsp Old Bay Seasoning
1/2 cup Garlic Powder
3 cups Lime or Lemon Juice
4 Half Eats Corn and/or Potatoes
*In our video we tripled the recipe and used only 1 tbsp of Cayenne Pepper for the entire batch and I felt it was a perfect mild spice. If you can't handle spice add very little at first maybe 1/2 tsp at a time to make sure it's not too spicy for you.
Directions for the sauce:
Melt butter in pan over medium heat (keep the butter from burning). Add the garlic until golden then add all the spices. Mix. That's it! Super simple. I love me a super simple sauce!
This will absolutely be made again. Now I can tweak little things here and there to create it as my own.
Day 32 what a flavorsome day! Done.
Check out the Youtube video below
---