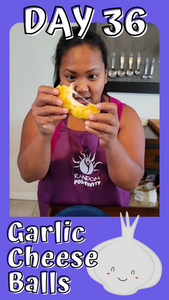 Day 36 Garlic Cheese Balls
Day 36 Garlic Cheese Balls! Can I just say yummmm! This recipe didn't have any measurements so I had to play with this and figure it out on my own. I found this recipe on TikTok (of course), I was able to come up with a garlic butter I felt was tasty. Doing this new challenge was nice. The fact it's a new recipe just adds to so many other things I can do with this recipe. Making a sweet dessert or adding pepperoni and a marinara dipping sauce. I am comfortable in the kitchen, but you can still be challenged in your comfort. I hope you are inspired to do something! So here you go. If you'd like to watch the YouTube video click on the link at the bottom of the page.
Ingredients:
Pillsbury Grands Flaky Layer Biscuits
6-8 tbsp Melted Butter
Shredded Mozzarella cheese
1/4 Dried Parsley
1/4 Dried Oregano
1 tsp Garlic Powder
1 tsp Garlic Paste
Directions:
Preheat oven at 375F
Open the biscuits and split each biscuit in half and flatten.
Place shredded cheese onto each biscuit, then pinch and roll so that the cheese is sealed in by the dough.
Melt the butter in the microwave and mix parsley, oregano, garlic powder, and garlic paste.
Brush garlic butter onto balls and place in the oven for 10-12 min.
Remove from oven and brush with remaining garlic.
Consume!
I hope this inspires you to do something new!
Day 36 in the bag!
FOLLOW US ON SOCIAL MEDIA!
Facebook - https://www.facebook.com/itsRandomPositivity
Instagram - https://www.instagram.com/itsrandompositivity/
TikTok - https://www.tiktok.com/@itsrandompositivitylang=en&is_copy_url=1&is_from_webapp=v1
Pinterest - https://www.pinterest.com/itsrandompositivity/_shop/
Snap Chat - @randopositivity
Twitter - https://twitter.com/RandoPositivity
Merchandise https://www.randompositivity.com/
Blogs https://www.randompositivity.com/blogs/all-blogs
---