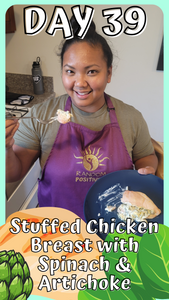 Day 39 Stuffed Chicken Breast
So by now if you've been reading my blogs and/or following me on social media, you'll be noticing a TikTok trend. I used to fight social media and here I am embracing it. I used to be naysayer when it came to anything social media. I thought it was pointless and dumb. I thought it was just people posting their food, doing reckless stunts, and being narcissistic. But that's because I was unaware that deep within the bushes of duck lipped selfies and photos of how great one's life is, there is an entirely different realm of teaching on social media. There are a huge number of "how to's" and better yet you can be taught the steps within 60 seconds, thanks to TikTok and IG Reels.
Getting back to the challenge at hand, I came across this tasty looking dish made with cream cheese. Um, yes please! Cream cheese is so freaking tasty. It needs to become a food group all by itself. This is Chicken Breast Stuffed with Spinach, Artichoke, and Cream Cheese. Other than the amount of chicken and garlic being used there wasn't any other measurements so I'm using what I ended up doing in trying out this recipe. If you'd like to see my first attempt at this recipe check out the video below!
The recipe is as follows:
Ingredients
4 Chicken Breasts
30 grams or 1 cup of chopped spinach
6 Marinated artichoke pieces chopped
2 Cloves of Garlic minced
1 8oz package of cream cheese (Be sure to soften it first, I didn't and it was hard to mix. You can soften by leaving it out for 30 min prior to use.)
Salt and Pepper
Olive Oil (I forgot this when I did it. Hahaha. Oh well, learning!)
Directions
Preheat oven at 425F
Mix the spinach, artichoke, garlic, cream cheese, salt and pepper to taste in a bowl.
Filet the chicken breast but be sure not to cut all the way through so you can stuff it with the mix.
Place chicken breast on a baking sheet and stuff the mix evenly in each chicken breast
Drizzle the top of the chicken with olive oil and dash of salt and pepper. (I completely forgot this step)
Let this bake for 30-40 minutes. Times may vary depending on oven.
Make sure to check with internal thermometer that it chicken is cooked thoroughly at 165F.
Take out of oven once it's done and enjoy!
---