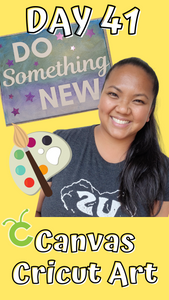 Day 41 Cricut Canvas Art DIY
Day 41 is here. And I decided I wanted to get crafty. I've used my cricut before but I never used it with a canvas or to make any type of home decor. This should be fun. I learned some simple "duh" moments during this first time attempt. For example wait for the paint to dry before I start messing with it. Hahaha. Sounds like an easy "duh" moment. It was quite simple to do. And I was able to keep myself entertained. If I wasn't rushing I can see how calming it can be to create something new. The painting part was especially relaxing and freeing because there wasn't any sort of rhyme or reason. I just knew I wanted some paint here and there. Check out the video below if you'd like to see how mine came out. This was a simple craft to do if you'd like to replicate I have the instructions below:
Supplies needed
Canvas (any size you like)
Vinyl stickers (either cut by cricut or get them already made at the store)
Modge Podge
Paint
Foam or Paint Brushes
Adhesive Spray
Instructions:
Spray canvas with adhesive spray and allow to dry
Place vinyl on canvas wherever you like and use a surface underneath the canvas so you can press the vinyl down without stretching the canvas.
Paint your canvas. Have fun with it!
Allow to dry.
Remove the vinyl stickers.
Put a layer of modge podge to seal everything in and allow to dry.
You are now ready to place your awesome work of art on the wall!
---